Ankle Supports
Ankle sprains are one of the most common sports injuries, but it is possible to sprain the ankle during everyday activities too. Often, all it takes is stepping awkwardly or catching your foot on something. This results in injuries to the ligaments that surround the ankle joint. Associated bone injuries are also known to occur occasionally. If the ankle sprain is not treated quickly and appropriately, this can lead to lasting damage and ankle pain – for example instability of the joint, which makes wear of the affected joint (osteoarthritis) more likely in the long term.
The Information Zone
Information is power. Find the answers you need to make an educated decision. If you still have questions that aren't answered here, please Contact us directly.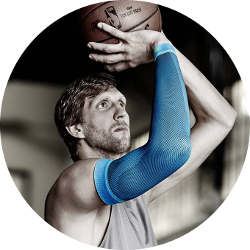 Dirk Nowitzki, 14 - Time NBA All-Star, Bauerfeind Brand Ambassador and Product User