What Sets the Bauerfeind Sports Compress Calf Sleeve Apart
Nov 17, 2020
Whether you are a seasoned athlete or someone who likes to run through the neighborhood to stay in shape, you have most likely felt discomfort or pain within your calves. Since many sports require harsh landings on the court, track, field, or pavement, it is no mystery that our calves will start to feel this impact. Fortunately, there are many calf sleeves out there to help stop discomfort and prevent future injury. Unfortunately, there seem to be a million options to choose from. That is why we are here to explain what sets our Bauerfeind Sports Compression Calf Sleeve apart from the competition. 
Medical-Standard Compression Levels
One of the main features of the Sports Compression Calf Sleeve that sets it apart is its medical-standard compression levels. While some calf sleeves simply hug the calf to temporarily reduce pain, the Sports Compression Calf Sleeve takes it a step further. 
In addition to reducing pain and discomfort, this medical-grade compression gradually decreases from the lower thigh to the upper thigh to promote circulation and improve oxygen flow. This will not only increase your endurance levels, but it will also reduce premature fatigue so you can train or play for longer periods of time.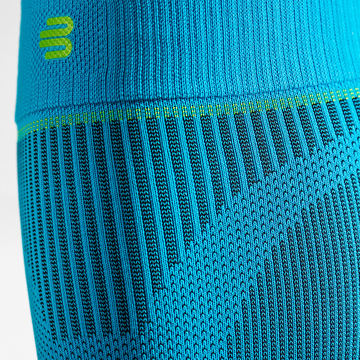 Designed with Comfortable Microfibers
There is nothing worse than an uncomfortable calf sleeve! From itchy materials that cause skin irritations to sleeves that seem to slip and slide with every move you make, there are many calf sleeves that just don't cut it. Fortunately, the Bauerfeind Compression Calf Sleeve is made with comfortable, breathable microfibers that feel more like a second skin than an uncomfortable sleeve.
What's more, the temperature regulating microfiber keeps the joints and muscles within the calf warm while offering a breathable feel and superior comfort. Plus, with wide ends that feature silicone dotted bands and adhesive zones, the Compression Calf Sleeve is guaranteed to never slip, even during the most rigorous practices and games.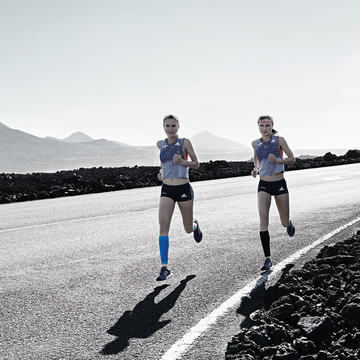 Easy to Wash for Multiple Wears
As much as we'd like to smell like a bed of roses after a game or workout, that usually isn't the case. This means that our sweat and smells tend to soak into our athletic gear. Nice picture, right? Fortunately, another perk of choosing the Bauerfeind Compression Calf Sleeve is that the durable microfibers can be machine washed and tumbled dry for multiple wears. Even better, the sleeves come in pairs so you can wear both at once or swap them out to have a spare.
No matter your sport or level of athleticism, our Compression Calf Sleeve will help reduce current paints and prevent future injuries while providing a plethora of other perks as well. There are many calf sleeve options out there, but none hold a candle to the quality that comes with Bauerfeind.