Treat & Support Wrist Pain In Football
Nov 17, 2020
From catching the ball to being tackled, football players experience their fair share of tough movements. While most players leave each game unscathed, one wrong move or one awkward land can result in a painful wrist injury. Fortunately, adding our stabilizing  Sports Wrist Strap will help protect players against painful wrist injuries all season long. 
WRIST STABILIZATION
While a wrist injury is unfortunate for any football player, it is especially debilitating to quarterbacks and receivers. Without the ability to catch or throw, these players will have to hit the bench. To prevent this scenario, players should ensure that their wrist is protected and stabilized throughout each practice or game.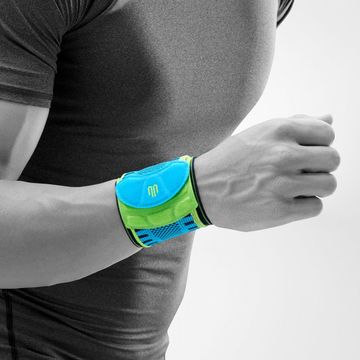 Breathable yet sturdy, the Sports Wrist Strap relieves and stabilizes the wrist during intense movements and exercise sessions by utilizing targeted pressure. This will reduce load peaks while providing protection against excessive strain and instability. From being tackled to practicing plays, a stabilized wrist is less likely to suffer from strains, pains, or breaks. 
CUSTOM COMFORT
Depending on the player, the progression of a wrist injury can vary. From the beginning stages to a more developed irritation, players will benefit from the Sports Wrist Strap's custom comfort and fit. Available in two sizes, the strap features an elastic loop that sits tightly yet comfortably on the wrist to provide a desired level of pressure without constricting the wrist.
Worried about the strap irritating your skin? Don't be! The Sports Wrist Strap is anatomically contoured for a perfect fit and is made from 3D AIRKNIT technology that is hard-wearing yet breathable. Instead of digging into a player's skin, the strap rests comfortably around the wrist. This makes it perfect to wear during long practices and games. 
From the practice field to the stadium, football players can enter each game confidently knowing that their wrist is fully protected our Bauerfeind Sports Wrist Strap.