How to Treat Tennis Elbow
Nov 17, 2020
For tennis players, stepping onto the court after weeks of intense training is an exciting feeling. The hours of repeatedly swinging, shuffling, and serving become especially rewarding when players take home that W. Unfortunately, this repetitive practice can also result in a repetitive strain injury (RSI), like tennis elbow, that can make practicing and playing unbearable. Fortunately, our Bauerfeind Sports Elbow Strap will help treat tennis elbow so players can play and feel their best.
SPEEDY HEALING
As any tennis player knows, one of the hardest parts of sustaining an elbow injury is giving it time to heal. This patience can run thin for many players that just wish to get back on the court with confidence. That is why the Bauerfeind Sports Elbow Strap is one of the best additions to any player's tennis uniform.
Featuring targeted compression and reduces vibrations and painful trigger points, the Sports Elbow Strap increases circulation to accelerate healing and prevent the injury from progressing any further. This means players can return to the court sooner and play pain and worry-free.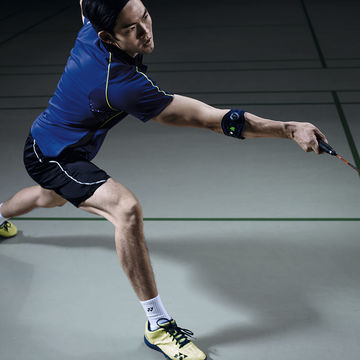 CUSTOMIZABLE PRESSURE
When it comes to Tennis Elbow, no two injuries are alike. Whether you are at the beginning stages of Tennis Elbow or have been dealing with it for some time, average braces will only give players a generic pressure that may not provide much relief at all.
However, with the Sports Elbow Strap, players can achieve their perfect levels of compression and relief thanks to the Boa® Closure System. Easy to operate, the Boa® Closure System allows for individual adjustment that provides custom compression. Since the strap lies flat, players can achieve their perfect levels of relief without restricting the movement of their elbow. From daily practices to competitions, the Sports Elbow Strap will keep players safe, reduce pain, and increase confidence with each swing.