Benefits of the Bauerfeind Sports Thigh Compression Sleeve
Nov 17, 2020
With summer sports getting into full swing, we may find ourselves wondering what we can do this season to improve our stamina, confidence, and performance while keeping our muscles and joints free from injury. While easing into a workout or stretching before and after is helpful, utilizing the proper sports equipment, like the Bauerfeind Sports Compression Sleeve for the thigh, can transform your season from so-so to the best one yet. This is thanks to the many benefits that this compression sleeve has to offer. 
Benefit 1: Faster Healing Rate
We've all been there. Whether you are a seasoned athlete or just starting out, we have all felt the aches and pains that come with a solid training session. Usually, this means taking extra time to recover until your body gets used to that amount of strain. Of course, this can be frustrating for athletes who are eager to get back out there. That is why one of the benefits of the Sports Compression Sleeve for the thigh is a faster healing rate.
This is thanks to the medical-standard compression available in each sleeve. Since the compression gradually decreases from the lower thigh to the upper thigh, your muscles will benefit from an increase in circulation and oxygen transfer. This, in turn, will help increase your endurance and reduce the risk of injury and premature fatigue. 
Benefit 2: Materials that Stay Comfortable
After a hard day on the field or court, our sports gear might begin to smell less than ideal. Fortunately, this is solved by tossing our uniforms, socks, and sweatbands into the washer and dryer. However, some compression sleeves are not machine-friendly and can even stiffen up after being washed. This leads to scratchy material and discomfort on the skin. That is why another one of the benefits of the Sports Compression Sleeve line is breathable materials that are easy to wash.
In fact, the temperature-regulating microfiber of the sleeve keeps joints and muscles warm without restricting them. This creates a breathable, comfortable sleeve that never limits your range of motion. Then, when you get done with practice or a game, you can simply toss your sleeve into the washing machine and tumble it dry.The durable microfiber ensures that the sleeve keeps its comfort and form even after several washes. Plus, since the sleeves come in pairs, you can always have a clean one handy.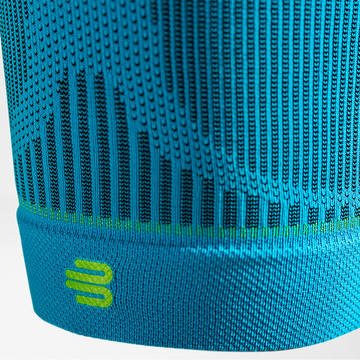 Benefit 3: Improved Confidence
When you step on to the field, court, or track knowing that you are protected from injury, you will be able to give each competition or practice your all. This will lead to improved coordination, strength, skill, and of course, confidence.
Even when particular training sessions or meets are tough, you will have an added peace of mind knowing that your compression sleeve will keep your joints secure, stable, and safe from start to finish. You can even rest easy knowing that each compression sleeve offers a UPF of 80 to keep your skin safe from damaging UV rays. No matter your sport or level of athleticism, you will love enjoying the benefits of the Bauerfeind Sports Compression Sleeve for the thigh.