Ankle Stability & Pain Relief for Football Players
Nov 17, 2020
Finding the best ankle brace for football can be a challenge. After all, players need a stable, sturdy brace that provides custom relief and pressure without cutting into the skin or limiting movement. This might seem like an impossible task at first. However, with the Bauerfeind Sports Ankle Support, football players can achieve ankle stability and pain relief all season long. 
CUSTOM STABILIZATION
Not all players require the exact level of stabilization. Some players may need a little while other players cannot play without it. That is why we created the adjustable strap for improved ligament stabilization on the Sports Ankle Support. This figure eight strapping system provides the same stability as traditional athletic tape, but is gentler, simpler, and more breathable. Plus this strap slips easily into a player's shoe and remains in place even during the most rigorous practices and games. When players can achieve their desired levels of stabilization, they can play safely and confidently season after season. 
OPTIMAL PERFORMANCE AND HIGHER CONFIDENCE
With breathable Air Knit material, the Sports Ankle support provides unparalleled medical-standard compression without ever digging into the skin. This will help boost circulation and reduce damaging muscle vibrations to prevent and stop current ankle pain as well as reduce joint, tendon, and ligament loads.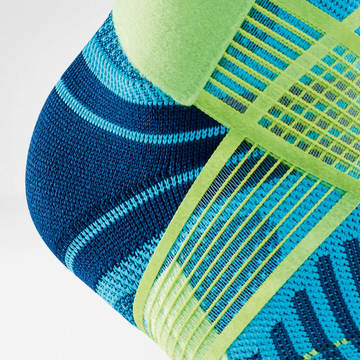 Additionally, the compression of this brace enhances positive sensorimotor feedback that translates to higher confidence and lower injury rates. This means that as players recover from current agitations, they will also grow stronger mentally and become more confident with each game and practice. Subtle yet powerful, the Sports Ankle Support is nothing short of a game changer when it comes to keeping football players healthy, safe, and confident.